Where is Staff Sgt.. Keith Maupin?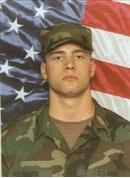 Staff Sgt. Maupin, 23, of Batavia, Ohio went missing in action in Iraq on April 9, 2004, when his convoy came under attack by individuals using rocket-propelled grenades and small arms fire.
A week later, he was shown on a video and identified by family members.
On April 23rd, his status was changed from whereabouts-unknown (DUSTWUN) to captured. Whatever term or acronym that is used, the fact remains:

HE IS A PRISONER OF WAR

And We need to bring him home NOW!

Please contact his Representative Rob Portman and demand that he do everything in his power to effect Staff Sgt. Maupin's immediate release!

Call his Washington, DC office NOW. 202-225-3164

Let's bring him home and show that Florida Cares!